Are you dating that gorgeous Virgo guy for a while and contemplating what it might be like to have sex with him? Is he really a prude or is he giving? Here are some things that you may want to know in regards to sex with a Virgo man.
Shy at First
When a Virgo man starts to get to know someone or date them, he's cautious. His sexual appetite is closely tied to his heartstrings. There are some Virgo men who may stray from the norm and be promiscuous. Most, however, are not like that.
In fact, most of them do not even want to have sex with someone unless they really believe it's going to go somewhere for the future. That being said, he's fantastic at holding out.
He'll hold out for as long as he deems necessary. Necessary would be when he feels that things are progressing and a bond is being formed. He also wants to feel comfortable.
While all of this is going on, he won't be busting too many moves. He is rather shy in the beginning and doesn't really know what to do or say. This makes him awkward at times and reserved.
It can make him seem like a bit of a prude but nothing could be further than the truth. He just reserves his body for someone with whom he feels that he has a deep connection with.
This may take a bit of time for him to figure out but once he does, things will shift and he will go from shy to hubba hubba. That means he'll go from doing nothing to wanting to keep his hands all over you.
When he opens up…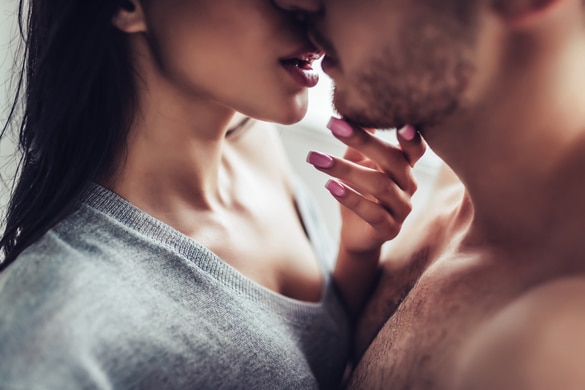 If you've been dating for awhile and he finally starts to initiate some physical contact, you'll find that he is rather sensual. He will like to kiss your lips, your forehead, your cheeks, your neck and perhaps even your shoulder.
This eventually leads to touching you in other places. He takes it slowly though because, again, he's still trying to get to know you and doesn't want to rush the process.
He DOES want sex. Make no mistake about that. He just wants to make sure that the person he's having sex with is someone he can also have a future relationship with. He's not really much into one night stands or temporary situations.
This is why a Virgo man can go years without having sexual contact with another person or even a relationship. He doesn't need to and isn't ready to settle for just anyone.
When he's young, he may settle a bit easier but when he figures out that it's a mistake to do that, he'll grow up and learn that something worth waiting for is far better.
It will take him some time but when he starts opening up more, he becomes affectionate and endearing. He will like to hold your hand, kiss your hand, and stare into your eyes.
It's important for him to read you via looking into your eyes. So if he starts to stare at you when you talk, he's trying to read your body language to make sure you're being authentic. This is why it's important to never lie to him.
He'll pick up on it and he'll know when you're not being honest. Honesty will earn you far more brownie points and will help build a tighter bond with your loving Virgo man.
Getting it Going
Once the Virgo man is ready to lay it down with the lady of his dreams, he will start to slowly uncover who he really is when it comes to sex. If he's comfortable with his lady, he will shower her with ecstasy.
He will find out what she likes and he'll start doing it more and more. He will expect her to speak up and tell him what she wants otherwise he's going in blind. Once she does tell him though, he'll try to give her as much of it as he can.
The Virgo man finds so much more pleasure in sex when he's able to pleasure his partner. It turns him on to watch her writhing in complete surrender in sexual activity.
Watching her being turned on and even orgasming, will make him feel the deepest form of satisfaction than you can ever imagine. A big turn on for him is when she masturbates in front of him.
He will just about orgasm himself just by watching her. He thinks it's the sexiest thing he's ever witnessed. He'll want to ravage her and make her have another one if he can help it.
The truth is, as much as Virgo is known as a "virgin", he's actually a bit of an undercover freak. He likes to push it to the limit, he likes handcuffing, sensuality at the highest, and lots of oral play.
This guy is naturally gifted
Now, if you've been waiting for your Virgo guy to open up to you. Let me assure that when he does, you'll never want for more. Truly he will be the best sex you've ever had in your life.
There are exceptions to the rule but most Virgo men know how to satisfy a woman even if he thinks he doesn't. Some have low self-esteem and think they aren't that great at it when they are naturally gifted.
They are attentive, they want to see you fulfilled, and they will feel much more satisfied when you are fully satisfied. They are givers and they are grateful for what they receive.
Virgo man is one of the hottest men in the sack. That is no line. Unless he has a rising sign that points him elsewhere, he is what you look for in loyalty, love, and sex. He's the full package!
What to do next?
First…
I've prepared FREE copy for you: grab your Free Copy of 30 Dirty Little Secrets About Your Virgo Man here >>
Second…If you'd like to REALLY get to know ALL about him, you'd want to learn more about my special series Virgo Man Secrets here. It's the most detailed "manifesto" about the Virgo man ever created, and it has helped thousands of women like you catch and keep that special Virgo man in their life. Don't wonder, know, exactly what your next move should be.
HOW TO ORDER MY "VIRGO MAN SECRETS" GUIDE?
Click this link here and when you scroll down to the bottom of the page click "ADD TO CART". Once you complete your order, you will gain INSTANT access and can start understanding your Virgo man within minutes.
Don't forget your purchase is 100% RISK-FREE, backed up by my 60-day money-back guarantee. So you've got nothing to lose to give this a try and see how it works for you.
Share your story (or situation) with our community in the comment section below (don't worry, it's anonymous).
Wishing you all the luck of the universe
Your friend and Relationship Astrologer,
Anna Kovach