What is the right way to text a Virgo man? What types of texts will keep him interested in you and help you build a relationship? Here are some methods you may want to consider using to raise your success rate with this sexy Virgo man.
1. Texting in the Morning
Whether or not he responds, sending him that initial text in the morning will make him smile and feel good about where things are going with you. It will inspire him in some way.
Make it really light and airy rather than pressuring him. Saying something like "Have a great day, handsome!" will suffice. It's simple and doesn't give way to too much emotion.
Remember that Virgo men are not emotional. If they are, they just really don't show it to anyone. That being said, he won't respond well to emotional types of texts. He won't know what to say.
When you wish him well for his day, he'll feel good about it. Just keep in mind that it's best not to have expectations on him texting back or WHEN he should text back.
2. Keep it Fun and Exciting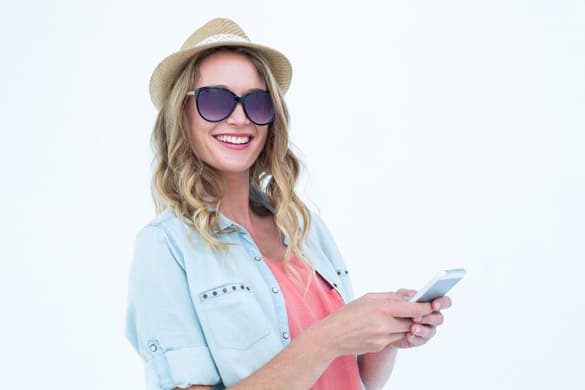 The right way to text a Virgo man is to make it fun. You can tell him jokes or send him funny memes or photos. He'll love it. Whether or not you know his mood, keeping it uplifting will be helpful.
It shows him that you like to make sure he smiles and feels good when he associates with you. If he's having a bad day, it may very well give him a good laugh and relieve some tension.
You can also do some daydreaming with him. He's really good at it but shares your daydreams with him too. Again, keep it fun though rather than emotional. Talking about someday going camping or hiking will win the day.
Perhaps there is something you've both talked about before that you can bring up again. If it's something that inspires both of you to be happy, talk about that.
3. Don't Pressure Him with Texts
If you text a lot it may start to become overwhelming and make him feel somewhat pressured. Giving him that initial morning post should be sufficient. The right way to text a Virgo man is to let him answer you.
When he does respond he'll let you know whether or not he's in a talkative mood. Go with the flow and let him sort of take the lead. Answer him but let him dictate which direction the conversation will go.
If he seems to stagger and not know what to talk about you may at that point tell him a joke or tell him that you're working on something and will contact him later.
Just like with any man he may be fickle sometimes and decide that he just isn't in the mood to text. In fact, many Virgo men prefer to talk on the phone rather than text message anyway.
4. Share Your Success and Fun
If you're having a great day and things are going really well for you, tell him. He'll feel good FOR you. He wants to hear positive and encouraging things from you. So letting him know you're doing well will make him feel settled.
He wants you to be happy and to have the very best always. If you complain about work or something else going on; he may respond with a text telling you to lighten up and not worry so much.
He may also suggest to you that you should treat yourself with something nice. Ultimately it's his way of caring and showing that he wants you to feel good about yourself in your life.
If something really great happens to you text him the good news! He'll be really happy for you. Unlike some other men, the Virgo man REALLY is GENUINELY thrilled for your excitement.
5. Send Him Random Texts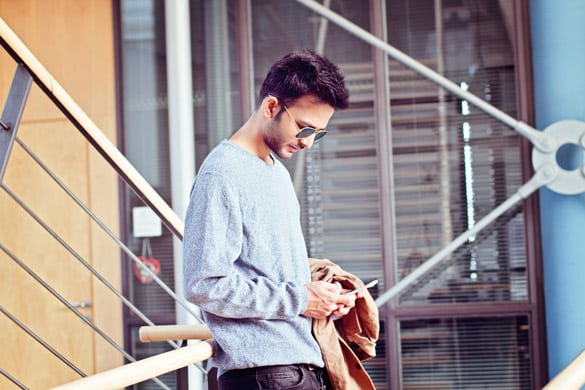 The right way to text a Virgo man is to also randomly send him a flirt. Don't be vulgar about it; just be really cute and sweet. Don't have an expectation of when or how he should answer though.
It will catch him off guard for sure but at the same time, it will get him thinking about you and what the future may hold for the two of you. This will be really good for keeping things spicy.
Random texts are fun, exciting, and should keep things fresh between you and your Virgo man. If you don't want to be sexual, you could just send him a random funny video clip to leave him wondering what that was about.
It may inspire him to text you back with something goofy or sexy. You never know what mood he may be in and so the answers you get could vary. This is why I mention not holding out expectation.
6. When He Doesn't Respond…
Virgo men are sometimes just not in the mood for texting. If that is the case, you'll have a day or two where you tried texting him and he doesn't respond. On the days where it feels quiet revert back to the only morning text.
Many Virgo men just aren't big texting people. That doesn't mean he doesn't care for you or not into you; it just means that he doesn't like to text that much. You can probably ask him and he'll tell you.
Try not to hold out expectation on him where texting is concerned. Shoot him that one text and let it go. He'll either answer you or he won't. At some point, he's going to reach out to you to spend some time together.
I know that sounds really frustrating and sometimes confusing if you don't really know him. Click here to get to know more about the Virgo man's personality. It will help you to learn what he will or will not do.
You may see it as a flaw but it's just who he is. As long as you can accept him the way he is love is still very much possible. I hope this article helps to give you the proper tips on the right way to text a Virgo man.
So, which way do you think is the right way to text a Virgo man?
Share your story (or situation) with our community in the comment section below (don't worry, it's anonymous).
Wishing you all the luck of the universe
Your friend and Relationship Astrologer,
Anna Kovach
---
---