How to know when a Virgo man is done with you? Have you had a falling out with your Virgo guy and now he's being ice cold? Has he left you feeling as though he's over you and has moved on? It can be pretty confusing figuring out how a Virgo man feels about you after an argument.

This is especially true if the two of you are new to dating each other and unsure about where you stand with one another. Sometimes you need to work through the kinks to figure out what works between two people.
Not all hope is lost, don't worry. Here are some key points to figure out if a Virgo man is truly done with you or just needs space to calm down:
How To Know When A Virgo Man Is Done With You
It can be so confusing dating someone, it all is going well, and then suddenly he just pulls back and you don't know what has happened. Could it be that your Virgo man is over the relationship and not interested in you anymore?
Of course, this is always a possibility, but it doesn't always have to be so drastic either.
There are many telltale signs that a Virgo man might be done with you. This can be gathered from him not texting you anymore to him being cold when you try to talk to him. This all depends on the situation and the Virgo man in question.
3 Clearcut Signs A Virgo Man Doesn't Like You Anymore
When A Virgo Man Stops Talking To You
You can tell a Virgo man is done with you when he goes silent. Just as a Virgo man becomes incredibly attentive when he's in love; he'll do just the opposite when he feels hurt, betrayed, or isn't in love anymore.
Your Virgo man will pull back and stop contacting you. Remember, that your Virgo is ruled by the planet of Mercury, which pretty much governs communication. If a Virgo man isn't reaching out, then he is probably doing so for a reason.
If you've tried to reach out to him and he still isn't responding, then he may be done with you. He will ignore you in every way possible. When he's upset, he may ignore you just for a short time.
When a Virgo man is done with you, he ignores you completely as he's basically decided to wash his hands of you. It all depends on what occurred before he stopped talking to you as to whether there is any chance to rectify it all or not.
If you live with him, he'll avoid eye contact with you and will speak minimally if at all. He may find excuses to leave the house or be somewhere other than home with you. He may just need some space to cool down, so don't think of the worst because there is always hope.
Naturally, if you see him packing his things, then he's done. If you come home and all his stuff is gone, he's done. These will be more of the obvious signs you can come across.
Discover more reasons why a Virgo man ignores your text messages here <<
He Criticizes You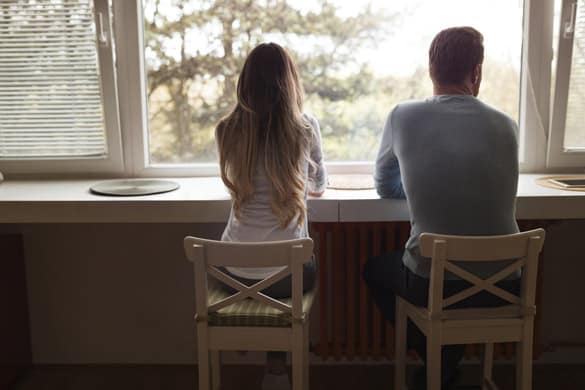 A Virgo man tends to be critical when he's in love because he cares. However, his tone will change and become more like an attack on you when a Virgo man is done with you. His voice will sound different.
Suddenly, he will nitpick on things that he finds wrong with you just because he doesn't like it and wants to exacerbate the situation as much as possible. He wants to hurt you or make you mad. This is all to get a reaction out of you so that he can blame you for the mess!
Whereas his critical nature used to be that of trying to help you and make things better, when a Virgo man is done with you, he will do it in a really nasty way that will hurt you on purpose. He can actually be really cruel in that way because he knows that this will send a message. This is what a Virgo man does when he cuts you off.
Virgo men can sometimes be indecisive and not want to initiate a breakup even though he isn't in it with his heart anymore. This causes him to try to be crappy toward you so that you'll take the initiative.
He will try to upset you enough that you'll draw the line and tell him that YOU are done and want to break it off. This is definitely the cowardly way to do it – what a pity!
Is your Virgo man playing mind games? Here's how to tell <<
He's Analyzing Everything
When things are good, the Virgo man will be happy to bask in the togetherness you have. He'll point out all the things you have in common. When he becomes unhappy or is ready to call it quits, again, he goes the opposite.
He becomes this angry tyrant who cannot help himself, and it may mean the Virgo man is done with you. He will point out the flaws in the relationship and the differences in an effort to make them seem worse than the things you have in common.
If you notice that he's suddenly started pointing out all the things that are wrong with your relationship, then this could mean that he's already on the way out with you. It may be a good idea to ask him why he's saying these things.
Pointing out the inadequacies in what you two have between you is basically saying to you that he isn't happy.  If he isn't happy then this means that either you need counseling or he wants out.
Hopefully, he is interested in fixing things with you, and if he doesn't, well then you have your answer. Best to know now than to stick to something neither of you is happy about. This is how you know a Virgo man is done with you.
Here's what you can do when dealing with a Virgo man and his mixed signals <<
What A Break Up With A Virgo Man Looks Like
You might be wondering: "How does a Virgo man break up with you?" And are there any clear signs that this might be coming? Take note of the things I have mentioned above to give you an idea that things might be heading to an end.
Here are some ways a Virgo man will break up with you when he knows the relationship is done for:
He Speaks His Mind
Virgo men tend to be very blunt when they speak. As such he could very well just tell you that he is done. When a Virgo man is done with you, he means it. There is no second-guessing or thinking he meant something else. He will be straight and tell you that the two of you are done.
A Virgo man says what he means and means what he says. Telling you it's over is a surefire way of him letting you know. If he hasn't said it but is displaying the other signs here it may be time to ask him.
You Might Have To Ask Him Directly
He will likely be honest with you if you ask him if he wants to end things. The hard part will be for you to work up the nerve to ask him. It's better to go ahead and pull that band-aid off and get it over with.
The longer you wait the worse his behavior will become. If not, he'll just completely cut you off and you'll never know what happened or why. It's better to just talk to him.
When a Virgo man wants out, you may want to let him go. If you try to keep him or pressure him to stay with you, he'll only be resentful. That doesn't mean that you cannot get another chance later on.
He Picks Fights With You
A Virgo man isn't confrontational by nature. He doesn't like to upset people or hurt their feelings, but sometimes he resorts to fighting when he feels like a relationship is coming to an end. This is an easy way out for him.
He will pick at you and intentionally hurt your feelings so that you can look like the bad guy and he is the victim. This is definitely a sign that a Virgo man is thinking about ending it with you.
Give Him Some Space
There is the possibility that your Virgo man is feeling indecisive and unsure if he should break up with you or not. This is when you should give him some space to think things through carefully. 
It really depends on what happened or why he isn't in love with you anymore. If it was something that you accidentally said or did, then you can probably still work it out, but you'll have to give him some time.
Allowing him to go when he wants to go will let him leave with peace of mind. He can then try to work out what happened and what he can do going forward.
If your Virgo man still loves you, he may return, but you are going to have to stay strong and not give in to texting him every moment you miss him – this will only put him off further.
Does giving a Virgo man space to figure things out work? Find out here and discover how long to wait for a Virgo man <<
The 3-Step Formula To Pull A Virgo Man Back
It may seem as if all hope is lost with your Virgo guy, but I have come to realize there is another way to look at it. It is in this version that Virgo makes a return.
It's not a joke, I promise. According to my experience, there are ways to make a Virgo guy reconsider you as an option if you have the right qualities.
Without a doubt, these are the steps you're going to want to know if you want to learn more about it.
There is no doubt in my mind that you can get back into the good graces of the Virgo guy. I can assure you that you are going to want to know everything you can about this.
As a result of the steps that I have in mind, the results have been astonishing. As a matter of fact, I was shocked.
In order to regain the trust of a Virgo man, there are a few things you need to remember…
I would recommend that you take a look at my method for getting your Virgo man back if you want to be safe
>> The steps outlined here will ensure that you've met with romantic success with the Virgo man.
Wishing you all the luck in the Universe,
Anna