Hello, my darlings, how are you, and how stressful was the New Year? Not too stressful, I would hope. I've come bearing the Virgo man's predictions for this fresh start of a new year. Strap in and venture into his forecast with me… 
The first week of January puts the Virgo man in a very romantic and kinky mood. He wants to spend as much time as possible with his love interest or partner, but he is conflicted within himself, thanks to Mercury Retrograde. Perhaps you'll have to make the first move and then let him have it from there. 
The second week gives leeway for playing sexy psychological games with him. Make sure to give him attention and praise him for the things that please you, but don't go overboard. Give just enough to not be an ice queen, but otherwise retain your integrity and that crooked smile that drives him oh so crazy. 
The third week offers a great opportunity to play with his carnal desires as you see fit, but also to give him very constructive and valuable advice that can enhance his career and public image. You go, girl, slay! 
The final week of January holds a Super New Moon in Aquarius, and this is a celestial call for him to work on defining his body and enhancing his health in all the juicy ways that you, as a queen of his heart (and his life) can think of. So, go forth and make this man's life harder, but also sexier.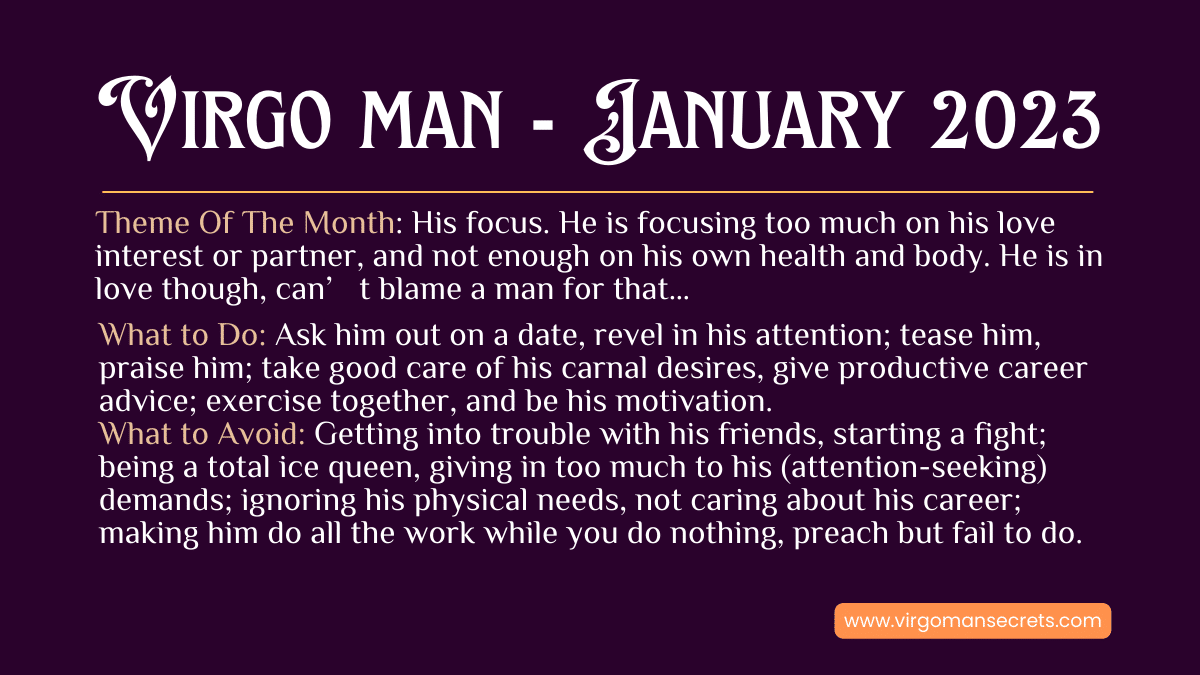 Theme Of The Month: His focus. He is focusing too much on his love interest or partner, and not enough on his own health and body. He is in love though, can't blame a man for that… 
Magic Phrase: I will visit all of the fortune tellers of this world until one of them tells me good news for my white dove!
Text Magic: Come here darling, I've been thinking of you, and you know something? I can't get my mind off of you, no matter how hard I try. 
What to Do: Ask him out on a date, revel in his attention; tease him, praise him; take good care of his carnal desires, give productive career advice; exercise together, and be his motivation. 
What to Avoid: getting into trouble with his friends, starting a fight; being a total ice queen, giving in too much to his (attention-seeking) demands; ignoring his physical needs, not caring about his career; making him do all the work while you do nothing, preach but fail to do. 
Access Virgo Man's Horoscope here –> Virgo Man Secrets 2023
Seeking Fate
During the first week, the Virgo man's focus will be entirely on fun, romance, and getting it on with his lover or partner. Mercury, his ruler, is Retrograde at this point in time, so this may cause some love squabbles and misunderstandings. However, the Virgo man will see to it that he repays those misunderstandings in bed. 
This is a great time to approach him for his number. If you see him on the street or want to ask him out for a coffee (or something stronger, depending on the vibe he gives off). He is ready for the romantic season to kick in, however, he is also asked to take a closer look at his daily routines and bad habits, like sitting too much in front of his screen, or doing a sedentary job without moving for prolonged periods of time. 
This first week is a good opportunity for him to start being more active, and if not for his own health, then for the sake of being his lover's or partner's eye candy. He really needs to get off his butt and go do something active with his body. 
On the 6th, there's a Full Moon in Cancer, and it illuminates his house of friends versus his house of romance. You can expect some friction coming from one of his friends, probably because he is spending too much time with you, or focusing too much of his conversations on you. Either way, you're being a hot topic of conversation among his peers. 
Spidey Senses Are Tingling… 
The second week of the month offers a window into his behavioral patterns and his Soul. The Moon will move through his twelfth and first houses, and this will bare his psyche and his inner urges to the light of day, at least to you. 
Now is a good time to ask him all kinds of questions, make observations (that you can later use to your advantage), and focus on him and his needs. If you thought that the Virgo man is not an attention seeker, you've got it wrong. He's as attention-seeking and craving as the Leo man is – only he hides it better and makes it seem more complicated than it really is. 
So, if you're really after his heart, then now is a good time to make him the center of your attention, and let him have it, at least for a little bit. Another thing about the Virgo man is that he doesn't want to be rewarded (too much), he likes to struggle and yearn for a bit. He's a pro-masochist, so you have to keep that in mind as well. 
Don't praise him too much, but don't ignore him entirely. Make him feel like he can get your attention if he tries well enough and if he presents his best sense of humor when you're together. This week is also great for watching old romantic movies, or old superhero movies where the nerdy guy gets the girl in the end. Trust me, I know what I'm saying!
Give Advice, Take His Body – A Fair Deal, Is It Not? 
The third week offers a great opportunity to deepen your BDSM romance with him and to play his feelings like a harp. He will give in, totally, to you at this point in time, and he will surrender his heart on a platter. 
Now, you be nice, don't crush his heart, just squeeze its strings a bit. His mind will be clearer, thanks to Mercury turning Retrograde, and he'll be able to use his objectivity and logic, as usual, so don't go overboard with exhausting his feelings. 
Although his body is entirely a different story – you can go as far as you want exhausting his body in all the devious and wicked ways you can think of. Go for it, and make him go crazy for you. There's nothing better or juicer when a Virgo man is groveling beneath your feet, yearning for more. 
This week is also a good time for you to give him constructive career advice, and if he's working on enhancing his public image in order to increase his financial gain, he can use your wise advice, especially since you've had a chance to observe him objectively and outside of his subjective perspective and overthinking inclinations. 
I Think I Am In Love
The final week of January moves his attention and focus to his daily work, routines, and health. There's a Super New Moon in Aquarius on the 21st, and he is asked to put more thought and focus into his daily life. 
This doesn't mean that you can't have his attention anymore, on the contrary, this offers a great opportunity for you to infiltrate his daily life. You can start a gym membership together, or do something productive, yet creative, that will leave you both yearning for the other at the end of the day. 
This week is a good opportunity for him to enhance his body image, work on his definition, and refresh his diet with something raw and juicy. I am not pointing any fingers or stating any names now, all I'm saying is – you can be a very productive part and a volunteer to his healthier (daily) diet. 
This week also offers a good opportunity for the two of you to deepen and expand your intimate bond and delve further down the BDSM cave that you both enjoy so much. Good luck and happy hunting!
Final Thoughts 
And there you have it, my darlings, an intense and juicy month of January for the Virgo man in the palm of your hand. Make ample use of it, as I've disclosed some serious and steamy details on how to hack his heart and mind. 
The first and third weeks are exemplary and hefty for getting the knack of the workings of his inner mind and making a permanent residence there. After all, the road to a Virgo man's heart is through his overthinking mind. 
Three rare transits in 2023 will shake him up heavily but also offer you an incredibly powerful opportunity to make your bond with him stronger than ever…
These planetary transits will play with his subconscious, and he won't even be able to grasp why he's suddenly feeling different.
That's why you need to understand what's happening inside of him and know how to position yourself through the different phases your Virgo man will go through in 2023.
When you align with his subconscious needs, he'll have no other option but see you as the only woman that ever got him.
Want to be the only woman he ever needed? In his most challenging, but also in his most fun and beneficial times?
Then make sure you go ahead and grab the opportunity to prepare for 2023 on time. Check what I've prepared for you in the link below.
–> Make Your Bond With Virgo Man Stronger Than Ever in 2023
Stay creative, free of mind, and free of spirit. Until next time, my darlings.
Love and light,
Anna Kovach