Every month, the planets change signs and affect our relationships. Depending on the planetary movements, it may be tough to understand the needs and desires of the Virgo man. But with my tips based on the monthly energy, you can draw the attention of a Virgo man or improve your relationship with one in October 2020.
Attracting a Virgo Man in October 2020
1. Spoil Him
After a busy month of work and celebrating his birthday, the Virgo man is ready to slow down and focus on his most intimate relationships in October 2020. 
From October 1 until October 22, the harmonious Sun in Libra will highlight the Virgo man's second house of values. 
In astrology, the second house is typically ruled by Taurus. When applying its meaning to relationships, the second house represents financial security, self-worth, and core values — how one likes to give and receive material affection. 
Because the Sun will be spotlighting the Virgo man's second house of Libra until October 22, he is most attracted to the woman who is financially secure and independent. He wants a woman who can spoil him with love and affection the same way he does her. 
If you would like to attract a Virgo man, shower him with small but thoughtful gifts. 
For example, Libras are known for their love of food and etiquette. Under Libra's influence, perhaps you could suggest to the Pisces man a luxurious dinner for two or plan a fine dining experience right at home. 
Virgo men are also known for their love of good scents. If you want to win extra bonus points, pick up his favorite cologne and surprise him at dinner. 
If material gifts aren't your style or in your budget, no worries. The Virgo man likes physical gestures too. 
For example, try offering him a sensual full-body experience or massaging his scalp and shoulders after a long day. It's the simple things that win the heart of this detail-oriented man. 
2. Trust Him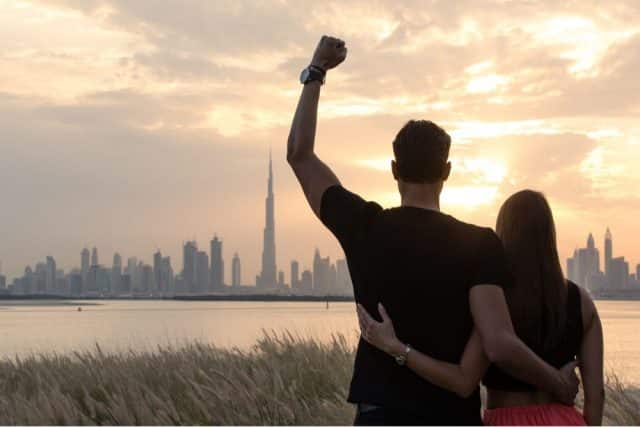 If the Virgo man was a little cold-hearted or distant in September, he should warm up come October 2020. 
Because starting on October 2, Venus, the planet of love and beauty, will enter his sign. 
As an astrologer, I've found that when a planet is in one's sign, it brings increased energy and vitality to every related aspect of life. 
With Venus in Virgo, the Virgo man will feel a sense of passion and excitement for his personal goals and desires. This is a time where he can selflessly focus on what he wants and needs instead of always answering to the demands of others. 
Because he is more outgoing and flirtatious than usual, this is a good time to earn his respect by showing him that he has your trust. 
Even though he may have the attention of several women or obligations, he is most attracted to the one woman who is confident and doesn't question her place among the rest. 
Instead of worrying about what he's doing or questioning who he's with, his ideal woman displays signs of emotional maturity and follows his lead. 
She gracefully trusts him to be honest with her and take charge. 
3. Practice Healthy Communication
If there's one thing a Virgo man cannot stand, it's a negative Nancy. Although he can be extremely meticulous and somewhat of a perfectionist, he runs from the woman who likes to argue or criticize him. 
With Mercury, the planet of communication and thoughts, retrograde in Scorpio from October 13 until November 3, interactions with others may be more complicated. 
When Mercury is retrograde, the Virgo man may seem more scattered or distracted. He may have a hard time expressing his emotions, or he may be more emotionally vulnerable and forthcoming than usual. This retrograde encourages leaning to one pole or the other.
Because Scorpio naturally rules the Virgo man's third house of communication and self-interests, focus on maintaining a healthy dialogue. If problems arise, talk them over smoothly. 
In astrology, Scorpios are known for their relationship to intimacy and sex. So focus on keeping the conversation going when it comes to passion and pleasure. Make sure you both feel fulfilled and acknowledged. The more you discuss, the closer you become. Let him know what you like. 
Read next: 5 Ways to Tell If There's a Future with Your Virgo Man
4. Make a Subtle Move
If you've been looking for the right time to make a move to let the Virgo man know that you are interested in taking the connection to the next level, the beginning of October is a great time to do it. 
Instead of beating around the bush and playing hard to get, the passionate Full Moon in Aries reminds you that gracefulness can be sexy. You can be subtle and still make a lot of noise. 
So, what do I mean by subtle? What does it mean to make a subtle move?
When I say subtle, I mean be intentional about how you approach the Virgo man. Study his movements and get to know his wants. 
Rather than being shy or reserved, send him a drink at the bar or quietly write him a private message instead of publicly commenting on his social media picture. Keep your love connection on a need-to-know basis until you both are sure that a serious relationship is what you really want. 
Overall, if you want to move forward with a Virgo man in October 2020, I suggest spoiling him, trusting him, practicing healthy communication, and making a bold yet subtle move.
If you do as I've suggested, I've found that October 2020 is life-changing for the Virgo man and love. 
For those who are ready to dive deeper and start your journey to unconditional love with a Virgo man, my guide Virgo Man Secrets is better than any daily, weekly, or monthly horoscope app you'll ever read. 
Instead of just giving you the basic knowledge of the Virgo man, I share real-life stories and examples of women who have been where you are and now have the relationships of their dreams.
In this intuitive guide, I'll share with you my top secrets for winning the heart of the Virgo man. If you're ready, purchase Virgo Man Secrets here.
And why not take my free love and compatibility quiz to find out if you and your Virgo man are a match?
I'd love to hear your results in the comment section below!
Your sister and relationship astrologer,
Anna Kovach 
---
---