Are you hopelessly in love with a Virgo man but haven't gotten him to take the plunge between the sheets yet? There are some things you can do to possibly seduce a Virgo man.
Remember Who He Is
To seduce a Virgo man you must know that he's old school. He is the type of guy that wants to take things step-by-step to make sure that what he's doing is right and the woman he chooses is the right one.
As frustrating as it can be sometimes; he may put sex on hold. It's not that he's trying to punish you, it's just that he often associates sex with love. So he wants to make sure he knows for sure he's in love before he does anything else.
It is true that sometimes he could fall into bed with someone quickly but it's not likely someone he'll then want to consider to be his wife or future partner. He expects integrity from the woman he wants to fall in love with.
If he hasn't put out yet, he's either trying to make sure you're the one or that your integrity is in the right place. So as taxing as it may be, you may want to consider giving him the time he may require.
There are a vast few that may surprisingly know immediately what they want and when they find someone that matches this desire, he'll go for it. He is very open with someone he feels IS the right one.
It will very much depend on who he is as a person and who you are as a person. He will let you know if he's ready or not. If you feel that you may be getting close to getting to the point of finally giving into the throes of passion; by all means, give these tactics a whirl.
Make the Scene Look and Smell Amazing!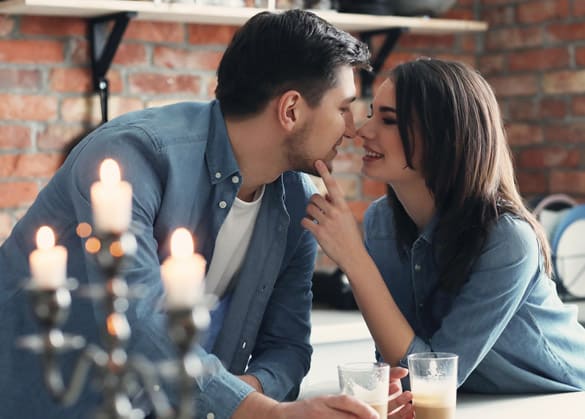 To seduce a Virgo man, take him to a clean environment that smells really nice. The best types of scents to use will be light and fresh ones like vanilla, lavender, or jasmine. These will be handy for his senses.
Try to burn these scented candles, incense or oil diffuser. Use whatever you've got that would fit this criterion. Trust me, he'll love it. The man is a stickler for cleanliness.
If you plan on trying to lure him into bed; make sure all of your bedding is clean and organized. Put candles all around the room and make it look like a romance novel.
This will make him at the very least want to spend some time with you in there. It may not always work for sex but it will at least get you some intimacy of some kind that holds out promise for more.
Make sure you've showered and used some sort of smell good scent. This will drive him wild when he gets close to you. If possible, put some romantic type of music on to complete the romantic mood.
Of course, it may help well if you used the type of music HE finds romantic. That can vary based on his taste. If you've been paying attention to his likes though you'll know what to put on to get his mojo going.
Cook Him a Nice Dinner
Not many men will turn down a home-cooked meal by their sweetheart especially if you know what you're doing in the kitchen. If you are not the greatest cook you may want to order some fancy cuisine and put on dishes to serve him.
To seduce a Virgo man, your whole place should be clean and inviting; not just the bedroom. He feels best when he is surrounded by a comfortable environment. A gorgeous meal will put him at ease.
Pick something that he really likes to eat and go with that. He'll find this very thoughtful and romantic. It will win you some brownie points for sure. In fact, let me share a little something with you.
My Romantic Technique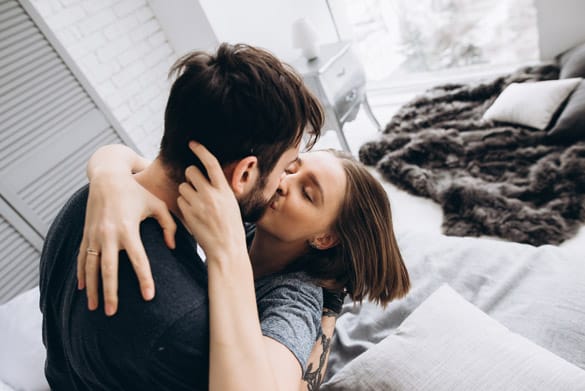 One Virgo man I dated used to want to cook for ME often. So once he had me over and while he was in the kitchen cooking, I went and straightened up the bedroom. I secretly brought over some nice scented candles and rose petals. Setting up the mood is also a way to seduce a Virgo man.
I lit the candles all over the room and put the petals on the bed. Then I shuffled back out to him when he let me know dinner was ready. He asked me what I had been doing and I told him I was freshening myself up.
Unsuspecting, we sat down and ate this wonderful roast duck and potatoes he made. He was quite brilliant in the kitchen! Afterward, we shared a nice glass of red wine on the sofa.
It was a chilly night out so we agreed a fire would be nice. He lit it, we talked about our day and then started talking about our passions in life. I did a sneak attack kiss on him. I was afraid he would pull away but he didn't.
I asked if we could go lay down in the bed because it would be more comfortable. He agreed and when we walked in there, he was floored by what I had set up. He grabbed me and passionately kissed me and that my friends, led us to the bed itself.
We heated that place up with our own fire. Of course, every Virgo man is different and he has to be comfortable with the level of security he has with you. Time frames vary.
Patience and Endurance
Clearly, you will need to fully understand your Virgo man to know what he needs and how long he may take. Romancing him can work but he has to actually really want it or it may flop.
I get how frustrating this can be but it doesn't have to be all that bad. In fact, you can, Click here to learn more about how you can speak his language. 
Always stay positive and maintain your faith in what can happen for your future with your Virgo man. I hope this may help you gain some ground with him.
How did you manage to seduce a Virgo man?
Share your story (or situation) with our community in the comment section below (don't worry, it's anonymous).
Wishing you all the luck of the universe!
Your friend and Relationship Astrologer,
Anna Kovach
---
---